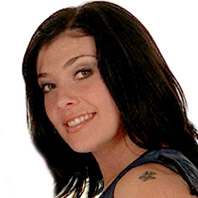 Full name: Kymberley gail Marsh
Age: 24
From: Wigan
Date and Place of Birth
13/6/1976, in Winston Hospital, Lancashire. Winston is Merseyside actually
Colour of eyes
Hazel
The girl from Wigan is Sassy, Wickedly funny and with a powerful voice had everything needed to be in a band. has the Natural Talent.
Has 2 children (David age 5 and Emily age 3). Graduated from Elliott Clarke Theatre School and has sung backing vocals for "Mother Earth" she hates being away from her children
She want to be able to give her children a great life and buy her mum and dad a house where they can all live.
Kym has previously had chart hits back in 1997 with Solar Stone, who's single "Day by Day" reached around 80 in the top 100. She also featured on the group's single "Prayer" in 1998 (group was then known as Sebatu). She also has featured on tracks by 2dB this can be downloaded free from http://www.peoplesound.com
Kym has a boyfreind,but thinks J from 5ive is sooo gorgeous. but 2 band mates she wont be dating are noel and Danny "it would be like kissing my brother"
Distinguishing Marks
I've got a beauty spot just above my lip, I've got a birthmark on my thumb, and I've got three tattoos
Favorites Pop Band
Five
Favorite band with instruments
The Corrs
Favorite son
g
Back For Good by Take That or Top Of The World by The Carpenters
What was the first poster you put on your wall?
New Kids On The Block
First memory
My Auntie Dyliss used to have really long fingernails and I remember having a book open and I used to go along the words with her fingernail when I was about three or four
first record you brought
Hangin' Tough by New Kids On The Block
Favorite cartoon character
Bart Simpson
Favourite Catchphrase
Got any pies?
Teacher you had a crush on
A history teacher at Birchill High
Favourite body part
My back, it's got a brilliant tattoo on it
Favourite part of a man
The chest, I like a nice, comfy chest
What disappoints you most about men?
When they're with their friends they act all hard
If you would pass a new law, what would it be?
That nobody can say anything bad about anybody unless they rally really know them
Were you cool at school?
No! I always wanted to be tough!
Most snogs in one night
Ooh, dunno. About six
What makes you laugh?
Noel makes me laugh
Favorite pizza topping
Ham & mushroom with extra cheese
favorite sandwich filling
Tuna and mayonnaise
Secret ambition
Just to be really successful and bring up my kids
Ever broken the law?
Yes. I was 17, had a provisional license and drove my car by myself and got caught. I got six points and a'£300 fine. Not good
What's the most you've spent on an item of clothing?
£500 on a coat
Who could you have in a showbiz fight?
Eminem, hahaha
What would you ban?
Smoking in your house. I can't stand it!
What's your idea of happiness?
Again, just being with my kids, and giving them the best so they don't ever have to struggle
Greatest fear
I'm going on about my kids again, but my greatest fear is that they would be affected by all of this. If that happened I'd stop i straight away
How would you like to die?
Quickly and painlessly! In my sleep
What would you change about something?
I'd like to be thinner
What qualities do you most vaule in a friend?
Honestly, loyalty and a good listener
If you could come back from the dead what would you be?
A dog, then I could just eat and sleep all day
Do you owned patterned socks?
Yes, I've got some Christmas socks with Christmas Trees on
Favourite Disney film
101 Dalmatians
Favourite place
Home
What's the best advice you've ever been given?
Follow your dreams
Favourite film star
Jim Carrey makes my laugh
Male or Female company
Male, I've always been one of the lads
What sport are you best at?
Football
What's the worst lyrics you've ever heard?
(singing) 'Monday, Monday, so good to me' because Monday's never good to me
What are Hear'say All about?:
"I know people say we're manufactured ,but it'll be great to show everyone what we are capable of doing. I think we will surprise allot of people"
Weird fact:
Kym sleeps with The TV & the lights on all through the night.
How does she cope with all the Media Attention?:
"you have got to stay positive and focused, Regardles of what people write or say about you"
ON THE BAND-
NOEL is very funny. He sleepwalks and is really loud. Myleene is terrible at getting up. She is really cool. DANNY has no bad habits(!) He's strong, silent type who loves cleaning!! SUZY is so funny- she always mixes up her words, and never gets off the phone!