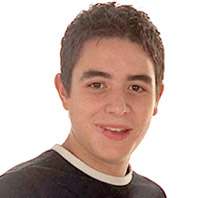 Noel Sullivan
Full name: Noel John Sullivan

Age: 20

From: Cardiff

Date and Place of Birth 28/7/1980 in Cardiff. I'm 21 in July.
Height & weight 6ft 1in, about 12 stone Colour of eyes Browns
Personality: Ambitious, excitable, easygoing

Fave person is his Mum. Noel was raised alone by his mum and is an extremely devoted son, his dream is to make her proud and now it looks like he will.









Before joining the popstars group, Noel had performed as part of a puppet show in Ibiza and, as part of a male choir, toured America.
Noel has shown himself to be the leader of the group, and possibly the loudest of the group. Noel is the joker of the pack. A brilliant mimic, the 20-year-old from Cardiff won over viewers with his phone calls home to his mum Claire.

Noel enjoys hanging out with his friends and is young, free and single.

Noel wants 2 things: rippling stomach muscles, and the s club 7 girls, he's the only single one in the band. noel says I m no wimp!

Do u fancy Anne Robinson?? they ask

"she isn't my type , I fancy Vanessa feltzs" lol

"Kym has the smelliest feet"

"Suzanne spends 24/7 on the phone"

"Myleene goes mad on the cleaning sprees"

Pets
None, but I used to have atarantula called Monty
Distinguishing Marks
A tiny scar on my right arm where a jelly fish stung me

Previous jobs
Waiter, barman, puppeteer, singer, fishmonger, paperboy

Favorite Pop Band
All Saints

favorite Band with instruments
Stereophonics

Favorite song
Sex Bomb by Tom Jones

What was your first poster you put on your wall?
Keith Flint from the Prodigy

First Memory
Learning to ride my bike
First record you brought
Charles & Eddie's Would I Lie To You?

Favorite cartoon character
Mowgli from the Jungle Book 'cos people used to compare me to him

Favorite catchphrase
"Hey buddy"
Teacher you had a crush on
I didn't fancy her, but I admired my English teacher Miss Gillians

Favorite part of my body
My Lips

Favorite part of a woman's body
Lips

Were you cool at school?
No, I was the singing dweeb boy!

Most snogs in one night
A couple...

What's the most you've spent on an item of clothing?
£250 on a jacket

What would you ban?
Bad pop bands

What's your idea of happiness?
Time with family and friends

How would you like to die?
Peacefully in my sleep

Who's the love of your life?
There hasn't been one yet

What quality do you most value in a friend?
Trust

If you could come back from the dead what would you be?
A dolphin

What's the last thing you laughed at?
Danny's face in the morning

When did you last cry?
When my family left after our surprise party

Least favorite group
I'm not saying!

Number of school detentions
Loads, for not doing my homework

What colour undies are you wearing?
Gray

What shampoo do you use?
Aveda, because we got givin it free

Favorite sweets
Wine Gums

What's the best advice you've been given?
"Take everything with a pinch of salt because things can be taken away as quickly as they've been given"

Favorite movie
The Green Mile

Favorite Film star
Sir Anthony Hopkins

Male or Female company?
It depends what mood I'm in

Which is the best room in your house?
My bedroom

What sport are you good at?
None

What's the longest you've spent getting ready for a night out?
About an hour

What's the worst lyrics you've ever heard?
"I can't live without my phone/ But I don't even have a home" from Mel C's If That Were Me!

he's very determined and he knows exactly what he wants. When it sounds like he's being arrogant, he's being confident. It's a fine line.

Noel on the rest of the band

KYM is mad - her feet stink!!
MYLEENE is a great leader!
DANNY is just fantastic, he's my new best mate!!
SUZY is blonde, lovely and if she didn't have a phone, shed die!!

Why we like noel:
For Being a good
Lad & speaking Offen to his Mum!

Weird Fact:
We felt sorry For Danny because he shares a room with Noel
and Noel sleepwalks and talks in his sleep,
He used to wake Danny up every night

Whats the Score with Hear'Say:
"we want people to Think that we're
a good band and not just look at the Hype around us. I think we will last for a long long long time

Who was your first proper gurl friend?
I haven't really had a proper relationship yet, iv had girlfriends on and off, but nothing major, argh! how sad is that
HA HA HA

Are you a bit of a romantic?

well i guess i am! kind of you see, iv never been in the position to wine and dine a gurl
so iv never really done that

Have you ever 2 timed a gurl?
Nope ive never done that and thrers no way i'd ever do that!

What kind of gurl turns your head?
they got to have a personality that is the most important thing for me
not really that bothered bout looks, but she cant be that disgusting or anything.

And what is a big turn off?
some1 who has no personality

Whats your fave perfume on a gurl?
I dunno really! kym wears angel and I think that smells lovely

are you a flirt?
yeh im terrible and i cant help it!
its a bit naughty of me tho, caus id never do anything about it

have you ever had your heart broken?
no ive been lucky in that respect

Would you ever date a fan?
never say never as they say!

give us your top 5 tips on pulling you?
how embarrassing! i guess the gurl has to be herself
that would be it actually that would be the top 5 rolled all into 1 sorry i'm rubbish at all this!
HA HA HA